MConnect ACS Angelique®Copper Stranded Wires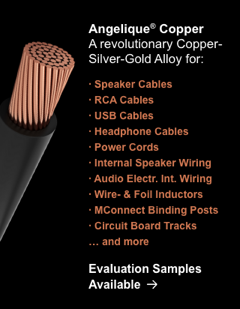 Angelique®Copper is a high quality Copper alloy to which a certain amount of silver and a certain amount of gold is added. A copper plus sort of for an audibly plus in musical enjoyment. At a price you would not expect from product a product enriched with SilverGold. Finally, we got Angelique®Copper's very copper-silver-gold ratio patented. Alternative alloys with more­ or less silver and/or gold were not as convincing in listening tests. It's all about the mixture!

Products based on certain SilverGold alloys have a long tradition at Mundorf. Since years, our SilverGold capacitor series are being used regularly in state-of-the-art projects of international manufacturers and passionate DIY experts. By the way, they also love our SilverGold solder. For a reason.

Unlike electronic components such as capacitors or coils, which process the music signal in its typical frequency range, audio cables and wires as electrical conductors solely serve one purpose: To get the music signal from A to B with as little interference as any possible. Not an easy task.

For electro-physical reasons, the current of the music signal causes the conductormaterial to resonate. One negative effect of these resonances is the resulting loss of energy of power and expression in music signal. Another one is the signal-influencing feedback effect of those resonances on musical details and sound staging. For example with our coils, a solid vacuumizing process reduces these negative effects very effectively. Inside our capacitors and resistors, additional damping materials ensure the greatest possible reduction of unwanted resonances, which vary greatly depending on the conductor medium itself.

In listening comparisons of loudspeaker cables, the Angelique®Copper alloy obviously resonates differently and most probably less strongly than the involved 3 metals individually: Calm from within, transparent and structured down to very smallest audible detail, every sort of music is performed to the point. Its expressiveness and tonal balance are certainly due to the Angelique®Copper alloy itself, which advantageously combines the best tonal characteristics of copper, silver and gold.

Angelique®copper stranded cables and wires can generally be used for audio connections of all kinds. Examples are the production of speaker cables and RCA cables or the ­internal wiring of components and loudspeakers. Furthermore, also power cords for audio devices as well as USB and AV cables from Angelique®Copper provide an audible improvement.